The advantages of drone surveys can open up enormous opportunities!
The surveying sector is rapidly flourishing with the advent of new-age drone technologies and they're proving essential for topographical surveying. They open doors to GIS planning, aerial photogrammetry, aerial videos, infrastructure inspections, property surveys, 3D site modeling, etc with a bird-eye view. Unmanned Aerial Systems (UAS) fitted with high-res cameras, payloads and GPS technology offer an entirely new approach with enhanced accuracy for various operational assistance in the areas of construction, civil engineering design, and land surveying. The advantages of drone survey are plenty and to harness them for your business utility, you need to have deep subject-matter expertise on the application.
So, what are the benefits of drone surveys?
 1. Reduced field times
If you're looking to perform extensive surveys for larger commercial properties, drones can help you with effective aerial inspection solutions. This could reduce the redundancy that comes with manual surveying which could take up a long time, even weeks at a stretch. Apart from being an operational burden that can hinder your workflow, this could also be exhaustive on your resources, labor, time, and money involved. Drone surveying can thus open your business to a plethora of opportunities and also deliver results with quicker turn-around times. It is also about five times quicker than any land-based method of surveying.
2. Accurate and exhaustive data rendering
One drone flight might be everything it takes to track a lot of metrics and data points altogether. A lot of measurements can also be reiterated to different formats like point cloud, Digital Terrain Models (DTM) and Surface (DTS), contour lines, 3D models, geospatial analysis, etc.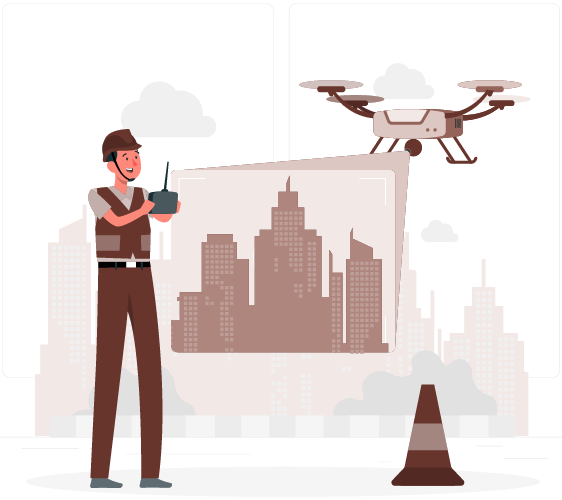 Aerial surveying will also provide you with a keen eye for attention to detail above. This will prove efficient, especially during any constructional development projects. They also provide a broader avenue.
3. Map areas that are otherwise inaccessible
There is no hindrance anymore in terms of difficult terrains, steep slopes, and hard-to-reach or inaccessible areas when you deploy drones for the mission. This makes it a perfect tool for aerial mapping, terrain assessments, surveillance, traffic monitoring, property assessments, etc with no sweat.
4. Poses no hindrance to workflow or operations
Take railway tracks or a highway, how do you monitor them without hindering their continuous operations? Well, drones can do that for you. The aerial capture efficiency of drones makes it easier for continuous monitoring and surveying operations to proceed without interference.
5. Reduced manpower
Traditional survey operations require too many professionals on-site with each of them carrying a diverse experience profile and subject-matter knowledge. The application of drone survey services can bypass this problem and do any surveys with a lot less need for resources.
6. Volumetric measurements
Drone technologies help with 3D models and mapping that will help us arrive at volumetric measurements with topographic data thus making these digital surveys more accurate. This is quicker and a lot more economic than the other methods of volumetric calculations. Stockpile calculation is also much more precise with drone operations. And since drones can be deployed aerially and capture the data from above, they'll also pose no hindrance to day-to-day operations.
7. Well-planned out urban planning
The future of the cityscape is going to demand a lot of resources and urban areas should be well-equipped to handle the influx of these. Thanks to drones, urban planners will be equipped to collect a lot of information within shorter time periods with lesser resources. Everything from environmental conditions, landscape analysis, structural planning, etc can all be precisely measured and developed for further planning.
8. Health & safety
Drones make it easier to even access the most remote areas while also ensuring uncompromised safety. They can carry out seamless operations without any interference even in the most sensitive environments and this is one of the top advantages of drone surveys. This also negates the possibility of any disasters in the workplace and also eliminated the need for extensive safety planning. Drones thus help in quicker turnaround times compared to the traditional methods of surveillance.
9. Access any subject
At YCSPL, we deploy drone assistance for various surveillance and monitoring operations. They're also extensively utilized for defense and border security operations with appropriate payload configurations. The payloads are also extremely efficient with about 30x zoom capacities that enable precise inspection of any subject.
YSCPL has been providing a vast range of drone surveying services for businesses belonging to both the public and private sectors. We deploy the most refined methods of surveying to provide you with real-time data solutions. Our experts are handy with 360-degree solutions that can gain you momentum in accelerating your business processes dynamically in all directions. We break away from the age-old problems of surveying with out-of-the-box solutions.
Our state-of-the-art technologies have helped us work on projects belonging to diverse areas like urban planning, archaeological surveying, property surveillance and management, land surveying, terrain assessment, construction development, etc.