Everything you need to know about Geographic Information System
GIS has been changing the way our world works by solving complex problems with the simplest of solutions. Geographic Information System stores, analyses, and manages diverse data sources and maps all these data to help aid better visualization. GIS helps us with a foundational understanding of any data in a geographic context. As a result, they help us to establish patterns or relationships. This understanding can help businesses belonging to diverse industrial sectors. We can make a thorough sense of any data that they accumulate.
They are a powerful utility resource that can help businesses with informed decision-making tools. It can also help in a complete understanding of environmental, topographic, and demographic data. GIS applications carry extensive data intelligence. They help with various industrial applications.
How does it work?
GIS helps in arriving at actionable intelligence from any data source. We can chart them as layers to arrive at a map out of which we can derive a better sense of the collected data. Geospatial analysis is employed to resolve complex problems.
Any GIS company will have professionals belonging to diverse disciplines including cartographers, programmers, spatial analysts, database managers, remote sensing specialists, land surveyors, etc. They can offer comprehensive end-to-end assistance.
GIS data comprises thematic layers and they include two major types:
Vector:
They are main points, polygons, and lines. Contour lines and data pertaining to administrative boundaries come under the vector category.
Raster:
These are in a grid format.  Since the data here is stored in the format of rows and columns that are discrete or continuous in nature. Land cover and temperature distribution can be common examples.
What is the common use case of Geographic Information System?
GIS has been powering millions of operations around the world and it's making noticeable impacts in every sector there is. Commonly, it is now used in areas like:
Mapping and navigation:
What's a better way to explain the visual data interpretations that GIS offers if not for taking a look at google maps? It's a web-based GIS solution that has been helping us consistently with smart mapping for everyday navigation purposes. GIS is also employed for smart mapping technologies since they are handy for property management of commercial sectors.
Urban planning:
GIS data helps in the thorough visualization of trends and socio-economic patterns of settlements. Consequently, they help drive further efforts towards thorough urban growth in the direction of sustainable expansion. This aids in the discovery of all the factors and environmental conditions that can drive successful constructions.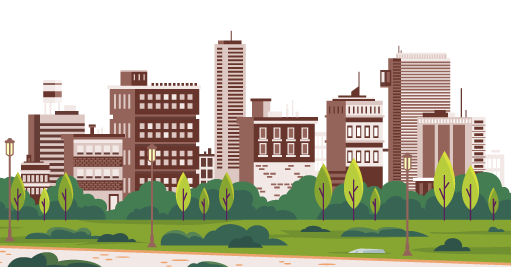 At YCSPL, we have worked in association with a lot of governmental organizations. We have worked on smart urban planning solutions that are time-tested and ecologically considerate.
Disaster mitigation and management:
A thorough assessment of the geospatial models of a locality and environmental monitoring can help in disaster management, mitigation, and even recovery. For example, let's take the case of cyclones or severe flooding/ GIS maps will help you with a clear-cut picturization of the location to understand the low-lying areas that might need relocation. This will help save lives and there are a lot of disasters like these that are prevented through GIS solutions.
Community development:
Building communities and assisting them with self-sustainable infrastructures. (like developing a '15-minute city' where all the utility resources are less than a fifteen-minute ride away). This is what extensive GIS services can do. They can be effectively utilized for extensive planning and drive efforts towards building better communities.
Geological application:
Geologists are now employing GIS for carrying out detailed soil analysis, and composition assessments, carrying out an assessment of seismic information, and arriving at 3D models for the depiction of geographic features. We can also identify rock characteristics which will give us a clear picture of their mineral composition.
Asset management:
GIS planning helps organizations and even the government plan every detail. And as a result, they utilize the finite resources within their reach more efficiently. We can understand all about the populations at risk and the allocation of resources better through these.
Agricultural developments:
Geographic Information systems can help in food production Also, they aid in better farming through comprehensive farming assessments and pre-requisite environmental conditions to assist the planned crops. Monitoring crop rotations, analyzing and preventing surface-run-offs, etc. This can help resolve the global food shortage.
Telecom and network services:
Geographic data analysis can dig deeper into the complex networking structure, optimized placements, planning, and overall maintenance. This aids in better overall location-based services.
Accidental hotspot analysis:
GIS data helps in identifying crucial locations that are accident-prone areas. With assisted data intelligence, it enables easy implementation of road safety measures and better traffic management.
Analytical surveying:
Geographic Information Systems have shaped Global Navigation Satellite Systems (GNSS). GIS also enables location sensing of any remote object anywhere on earth. It can also help with thorough estimation and mapping of any given area to arrive at a structural understanding. They are especially useful in the areas of mining and even in the oil & gas sectors.
YCSPL has been employing industry experts to offer end-to-end GIS planning, consulting, and deployment solutions for businesses belonging to diverse verticals. Geo processing, geocoding, GIS survey, data collection and processing, and custom geospatial development are all some of the services that we offer thorough support and solutions for.
Contact us to make your vision for business expansion a possibility with data-assisted decision-making!