Project management life cycle – explained!
In this era of ongoing rapid globalization and the ever-so-competitive landscape where businesses are endlessly trying to be ahead of the curve, it is important that you plan every last thing perfectly to keep your game running strong. Be it any project of any scale or end goal, it is necessary that you dive into the process with a pre-planned approach leaving no room for errors or misjudgments. This is where project management life cycle planning comes in handy.
The nature of your project does not matter here. But to effect a proper execution of all the planned operations, you need to deploy your project strategically in a well-envisioned manner. Turning any concept or even a vague idea into a revenue-generating operation or reality takes ardent background work. Project management can essentially help you divide this entire effort into different phases that are streamlined with set expectations to meet every step along the way. This thus results in better overall efficiency in everything you do.
A structured and organized way of going about crucial things will always help you in meeting your vision better and also make better-informed decisions along the way.
Usually, the project life cycle in project management can be dissected into four phases including:
Initiation
Planning
Execution
Closure
There is also a fifth phase where monitoring and controlling happen. With each phase, there are better laid out goals and subsequent room for improvement. Every project is unique from its very foundation and they cannot be all driven in the same conventional way. The strategy you choose should be specifically custom developed for the requirement you have in place to enable proper execution.
1. Initiation
The project feasibility, overall end-goals, devising a process flow, organizing all the efforts forward, disaster aversion planning and preparation, etc happen here end to end. This phase of the project involved end-to-end strategizing and brainstorming of all the possible solutions and potential ideas that can be driven toward execution in the subsequent stages.
All the team members despite their hierarchy and the value they bring to the table in terms of the diverse niches of their work should all brainstorm together about the expectations and the way forward from here on.
2. Planning
After going through the initial phases of project approval, agreeing on the scope of work, and jotting down the end goals, you reach the planning stage. Here everything from the resources, tools, technologies, or even manpower is all carefully calculated. You should also discuss clear-cut budget allotment, timelines, and schedule planning along with driving all your attention toward the perfect execution and delivery.
During the planning phase, you should also break down the bigger works into smaller fragments and take things one at a time. With efficient dispersion of resources and breaking all your functional requirements into smaller tasks that can be easily handled.
Anticipating risks and devising proper exit plans for these should also be a part of this phase. A project kick-off meeting might just be something you most definitely need to communicate everything transparently before you go any further ahead. Every teammate should be on the same page before you go any further.
3. Execution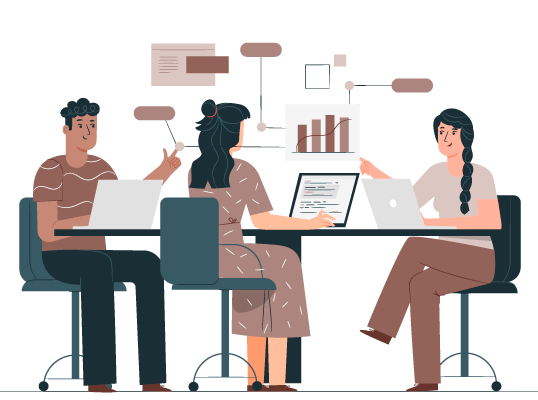 Of all the project management life cycle phases, this one can be crucial. Even the most well-planned cycle can hit a dead wall or face a lot of potential hindrances that are unanticipated at any point in time along the way. The execution phase of the project management life cycle is something you should definitely pay huge attention to. It is always advisable to assort a project manager who can overlook everything from the timelines, task management, project quality, and proper execution strategies each day out. Splitting the projects into granular tasks for each individual can play a massive role. At the same time, there should also be a free flow of transparent communication between different members of the team. This will result in better mutual collaboration and the direction of efforts in a unidirectional way as one.
Quality monitoring should be given prominent importance here to meet set expectations for every little task there is. Budget control should also be kept in mind before making any significant leap forward with any new breakthrough.
Proper documentation of the process and the progress management of every last task should be given priority. Any changes in the path should be accounted for and every project member should be kept aware of it throughout. There is also one other job of keeping the stakeholders informed about every happening. Be it any nature of program and project management, you can.
4. Closure
Now that we're headed towards the final phase of project completion, it is necessary that you get all the changes required documented so you can rework, realign or improve things as necessary in one go. Avoiding back and forth in the way you can be given priority. This will prevent any delay in deliverables.
A project closure report and revisiting all the initially set goals should be made given optimal importance. Devising a detailed impact report to see if you've accomplished all the metrics that you set your eyes on initially. A closeout report where you also record all the milestones crossed, your achievements, little accomplishments, or improvements you did along the way should all be accounted for here. This will make you put out a better impression on your clients in terms of all that you've managed to achieve with the project in hand.
At YCSPL, we have been associated with projects of huge scale and have managed to reach the desired expectations and even surpass them time and again!