Do you know all about digital transformation?
The world around us is rapidly changing and you need to keep up with the pace in order to make your business stay ahead of the curve. Digital transformation might just be everything you need to realign your way according to contemporary trends. This basically refers to the integration of technologies that will help any business accelerate forward. You can do this by helping to ease your operational flow, improve your marketing strategies, sync with consumer preferences, increase your revenue prospects, better visibility, organizational restructuring, etc.
But there's always confusion with respect to where you can start your efforts with. Hiring an expert might make the process a lot easier and hassle-free. This is because they'd be resourceful to handle all your requirements and meet all your operational demands.
5 different types of digital transformation services
1. Business process transformation
The transformation process when it comes to businesses typically involves changing all the operational methods from scratch to enhance the operational flow. This involves giving enhanced accessibility for easing day-to-day operations and improving all the operations by automating as necessary. Making investments in the digital side of things by making way for improved marketing, R&D and data collection is also a part of the digital transformation service.
2. Cloud transformation
The power of the cloud has been rapidly explored in the current scenario since it offers improved accessibility and maximum data utilization. Migrating your operations to the cloud will give you added data security, flexible operations, and accessibility to all your information systems in one place.
There are a lot of cloud products specifically curated for business operations like accounting, finance, HR, CRM, ERP, etc that you can easily implement for your utilization. You can also team up with resourceful companies like YCSPL who can help you with easy deployment of any cloud solutions there for your business.
3. Business model transformation
Rethinking the entire structure of your business is what business model transformation necessarily involves. For example, covid19 has pushed all conventional brick-and-mortar stores to focus on eCommerce creation, development, and deployment. This is complete realignment and it is not easy. The digital transformation methods that you go for should necessarily take all factors into consideration like your market viability, consumer preferences, target audience sustainability, potential revenue generation, and the competitive landscape around.
Focusing on the strategic part of turning your business around for the better with added assistance from digital technologies is something you should pay attention to despite the scale of your business.
4. Cultural transformation
Leveraging new technologies to venture into the unknown will only be seamless if all your employees are up for it. And this would only happen when you spend proper time and resources in educating your entire team to gear up for any new changes. You should be focusing on promoting a transparent work culture and improved collaboration between departments. The entire business model should be assessed and accounted for before proceeding forward with digital integration.
5. Domain transformation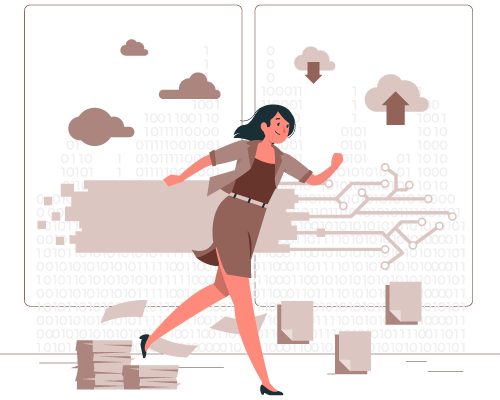 Transcending conventional boundaries to trace newer segments of business is the basic premise of domain transformation. Creating a whole new market that was not even previously existing is where digital transformation technology comes into play here. Employing all the newer technologies like the Internet of Things, Artificial Intelligence, wearables, interactive web applications, etc are all a part of domain transformation culture. Tracing newer possibilities with any existing business is now easier than ever. But all it takes is an expert who can simplify all the challenges.
What should you look for in a digital transformation company?
1. Experience
If anything, digital transformation is the most crucial investment of all. It can potentially reap good returns in the longer run. But only if you get it right in the first place. Understanding your business conditions, market environment, and consumer preferences is important before you deploy any new digital additions to your existing operations. While the returns are going to shoot through the roof, you should also be focusing on hiring someone who will bring that your way.
At YCSPL, we have been helping a lot of SMEs with digital solutions for almost a decade now and we understand what it takes to deploy the perfect solutions for your business.
2. Accountability
This is now of the game-changing factors. This is because when you hire someone to offer you digital solutions, you're basically naming them as the in charge in the domain you're not so sure of. You're going to depend on these partners to offer you the most viable, sustainable, and profitable solutions. The entire operational outlook of your business might just change with the advent of newer technologies in the picture. Any partner in the picture should look at all the opportunities while also steering clear of all the risks that you might encounter along the way.
3. Resourcefulness
The efficient deployment of digital transformation methods depends on all the tools, people, and technologies that you have in place. The company that you hire should have enough expertise and professionals from diverse niches coming together for offering all the solutions you're looking out for.
When you hire someone like YCSPL, you're essentially falling back on our decade's worth of experience. We have already helped a lot of business stay afloat and trace better revenues sustainably with our transformation solutions. Talk to us today and we might just show you how it's done!